Reach a global audience with our ad platform
By using a variety of online advertising channels, you can reach a global audience and promote your products and services to people all over the world.
Programmatic Advertising
MediaPal Omnichannel advertising platform delivers high campaign performance through programmatic advertising, it provides an end-to-end platform view of the digital advertising ecosystem. We tap into the power of a unified marketing platform to maximise performance and deliver desired business outcomes.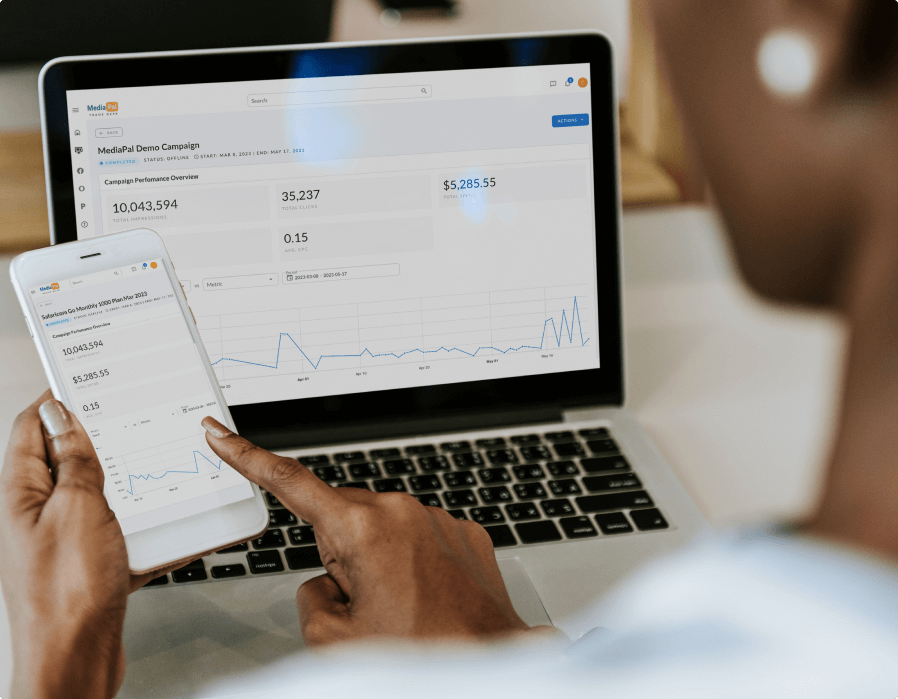 The Customer journey is Omnichannel
It allows advertisers to identify their target audience, set a budget and to place ads on digital platforms that are most effective in reaching their customers. MediaPal DSP manages ads on multiple digital media channels through a single interface making it omnichannel.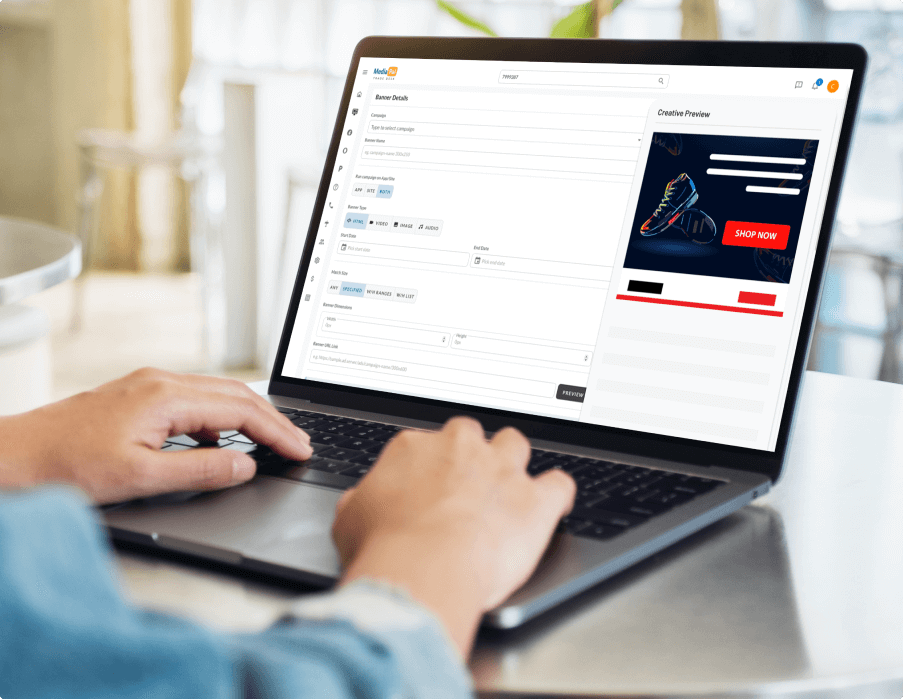 Delivering seamless omnichannel access for any advertiser
Campaign objective and performance doesn't rely on one digital platform or channel or strategy. Our platform is built on a data-informed view of the entire advertising ecosystem.
Today's online users access information across different platforms and channels, omnichannel programmatic advertising allows you to reach your target audience across the full breadth of their user journey on various channels.
Meet them on the device they carry everywhere
We spend a lot of time on mobile devices, smartphones and tablets. Highly targeted mobile advertising via in-app and mobile browser allows marketers to provide personalized ads to audiences based on their location, online behaviour and interests.
Mobile is key to getting your ads to your target audience when they are ready to engage, it works perfectly well when paired with display, video, native, audio and other programmatic channels.
Mobile advertising connects with audiences through a variety of formats, including banner ads, native ads, rich media, high impact, interstitial or video ads.
Communicate with your audience wherever they are in a variety of engaging ways.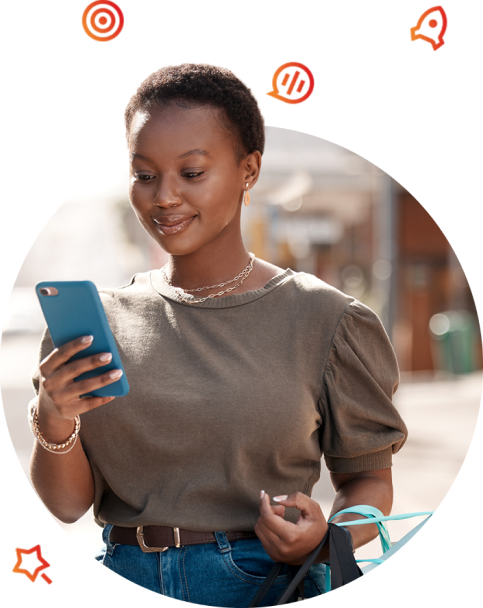 Benefits
Sophisticated targeting
Target audiences by location; device type and model; browser; carrier; operating system and across different mobile environments; apps and sites
High quality inventory
A single access point to the world's best publishers with premium inventory accessed through open exchange, private marketplace (PMP) and guaranteed deals.
Mobile Retargeting
Connect with consumers who have previously visited your site or app and retarget them efficiently.
Cross-device measurement
Optimize your campaign journey across the different channels and devices, measure the performance and focus on the right channel and device helping you convert your audiences.
Engage with your audience at the right time at the right place
Connect with users through their favourite websites and apps with intelligently targeted programmatic display ads.
Programmatic display campaigns offer a remarkable breadth of reach, allowing you to tap into diverse online communities. By strategically placing your ads where your potential customers are most active, you can significantly enhance product awareness.
The precision of programmatic display targeting ensures that your ads are presented to individuals whose online behavior and preferences align with your offerings. This provides a potent tool for generating high-quality leads, effectively nurturing prospective customers through their decision-making journey.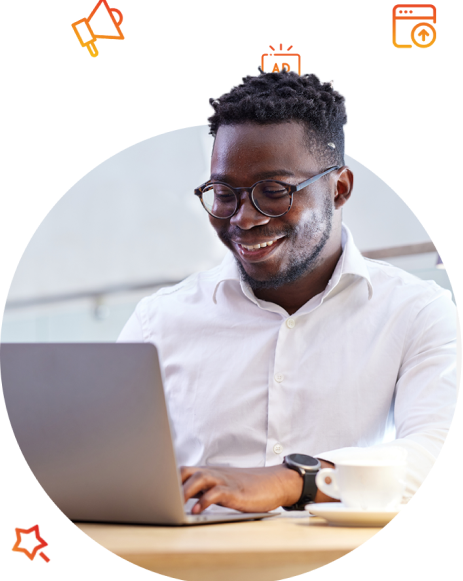 Benefits
Dynamic Creative
Use the display real-estate to create a variety of display creative ad formats and sizes; html5, rich media, high impact, interstitial ads and more.
Better audience engagment
Engage your audiences using display on websites and apps they are most likely to engage.
Greater Reach
Display advertising has the greatest potential reach on the internet, it is the largest programmatic channel with the greatest inventory in the internet.
Better Targeting
you can target, optimise and retarget programmatic display campaigns as per your digital marketing strategy framework to increase performance and maximise the desired business outcomes.
Deliver premium customer-centric marketing with video advertising
Video is a highly engaging and personal ad format, advertisers can complete the marketing funnel by leveraging video advertising for awareness, acquiring new customers and influencing brand perception.
Programmatic video ads are either standalone or within premium streaming platforms and websites or embedded within online articles or through banner ads.
Video ads have a variety of formats designed for different environments, such as Display banner video, Mobile, PC, Connected TV, or other OTT services and uses programmatic power for advanced targeting solutions.
One can choose among many display video ad formats such as linear or nonlinear, in-stream, or out-stream.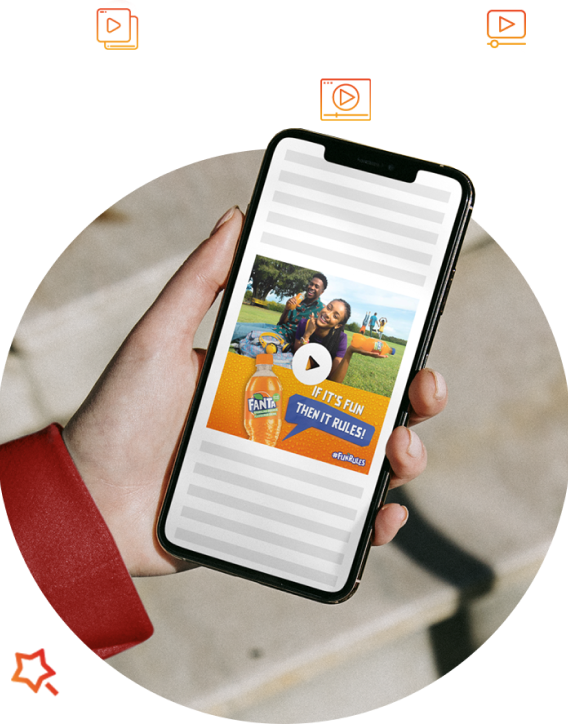 Benefits
Omnichannel access
Access premium streaming platforms, websites and devices on our omnichannel platform helping you to optimise campaigns even better and allowing you to focus on performing platforms.
Advertise across multiple platforms
Place your video on inventory across different devices and reach your target audience with full insight into their behaviour and interest.
Brand-safe high-quality content
Use premium inventory to display your advertisements next to brand-safe content on websites and streaming services all around the internet.
Measurement in real time
With actionable insights, you can measure the business impact of your video ads and optimize campaigns in real time.
Make the Ad feel like part of a publisher's website content
Native advertising matches the form and function of the platform upon which it appears, with native programmatic ads, you can make your ads appear to be part of the page, providing your audiences with a non-disruptive experience. Native ads appear like an advertorial and manifests as a video, article or editorial content, it can appear also within newsfeeds, in recommendation widgets or during a publisher's video.
By capitalizing on platform aesthetics, native ads effectively convey content while respecting the audience's browsing experience.
Combining native advertising's integration with programmatic targeting, native programmatic ads deliver messages intuitively, fostering deeper engagement and resonance with your audience.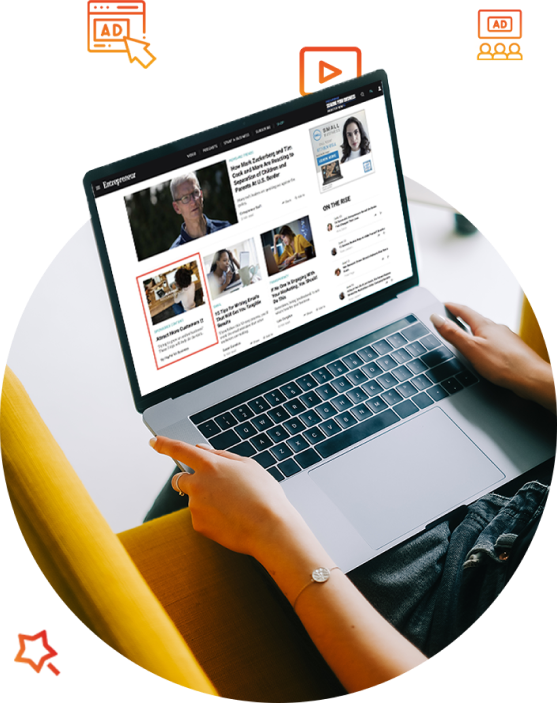 Benefits
Increase Engagement
Native ads engage audiences at every stage of the marketing funnel boosting click-through rates across the publishers.
High quality native inventory
You can easily activate native ads within existing campaigns and leverage the different creative formats across our premium inventory.
Brand-safe high-quality content
Use premium inventory to display your advertisements next to brand-safe content on websites and streaming services all around the internet.
Brand-safe environment
native ad inventory is brand safe and positions your brand in the right placements making sure the right audience is viewing your ads in the right context and content.
Real time reporting
Make the most of your advertising dollars with a measurement suite that lets you optimize your campaigns faster than ever before.
Discover the future of TV
Connected TV (CTV) refers to TV or device that can be connected to the internet to access video/audio streaming content beyond what is available via the normal offering from a cable provider.
CTV ads are bought programmatically and shown on smart TVs, set-top boxes, computer/mobile streaming, gaming consoles or over-the-top (OTT) devices. Ads are served before or during content streaming.
MediaPal's CTV advertising solution provides brands the opportunity to reach vast audiences with data-driven audience targeting. You are able to control who sees your ads and how often.
Harness the power of CTV and steer your brand towards unprecedented engagement and conversion rates.
Benefits
Audience Growth
Our Connected TV solutions offer advertisers the opportunity to grow their audiences and maximize reach to the growing digital CTV audiences.
Data-powered targeting
Get access to demographics, first and third-party data to help you reach audiences across all screens. CTV/OTT allows marketers to reach users that linear TV cannot.
Incremental Reach
Use linear TV data to extend reach to net-new households, with the goal of maximizing audience penetration and your budget.
Premium Inventory
Access major networks and streaming platforms across the world, either programmatically or directly.
Frequency Control
To maximize reach and give viewers a better experience, manage frequency across networks, channels, and devices.
Integrated Measurement
Track both digital and traditional data, such as gross rating points, reach and frequency, and sales, to determine the impact of your ads across networks and publishers. Quantify and attribute the results of your TV media ad spend with performance driven KPIs.
Engage your audience as they stream music, news, and podcasts
Audio advertising is a unique and powerful augmentation to omnichannel campaigns in an era where consumers stream podcasts, music, digital radio and news while working, driving, doing chores exercising and more, audio offers access to individuals rarely reached through other mediums in a focused, distraction-free environment
Audio ads ensure a tailored experience by aligning with users' interests, this immersion forges a powerful connection, positioning your brand as an essential part of their lifestyle.
By tapping into programmatic audio's potential, you can align your brand with your audience's rhythm, crafting a lasting impact amidst their daily soundtrack.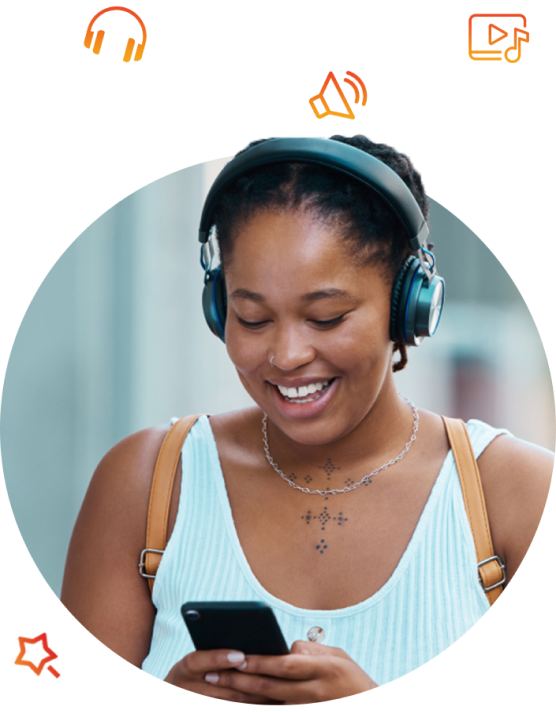 Benefits
Brand Safety
Be confident that your ads are only running alongside audio content that aligns with your brand and messaging.
Real-time Insights
Programmatic audio insights offer a greater level of understanding of your target audience's behavior, as well as how your campaign is performing simply because there is more data to work with leading to better targeting.
Advanced Targeting
Reach the right audience through the right targeting by geolocation, interest, demographic, device type, playlists, genre type and more.
Contextual Targeting
Audio-specific things like genre type and playlists enables the ability to target a user in the right place at the right time and within the right context which is critical for a brand looking to connect with its audience in an immersive, authentic, and contextually relevant way.
Omnichannel Reach
Having audio in your omnichannel strategy enables advertisers to reach their audiences whenever and wherever they are.
Lesser dependence on cookies
Listening reduces reliance on cookies, which is critical when it comes to regulations such as GDPR and CCPA. In essence, both advertisers and publications benefit from the scenario.
Lesser skippable ads
Audio ads are also mostly linear and not overwhelming which makes it less skippable.
The best of digital and out-of-home combined
Digital Out-of-Home (DOOH) innovation merges digital tech with traditional ads, garnering heightened attention. This synergy enables brands to connect profoundly with potential customers during pivotal moments, like shopping or queueing at checkout.
With effectiveness of programmatic technology and DOOH we engage consumers in their day-to-day journeys through having DOOH partners in major public locations such as airports, highways, bus stations, shopping malls, super markets, elevators, and more
With DOOH ads, brands can empower the traditional out-of-home advertising formats with the efficiency of other digital channels.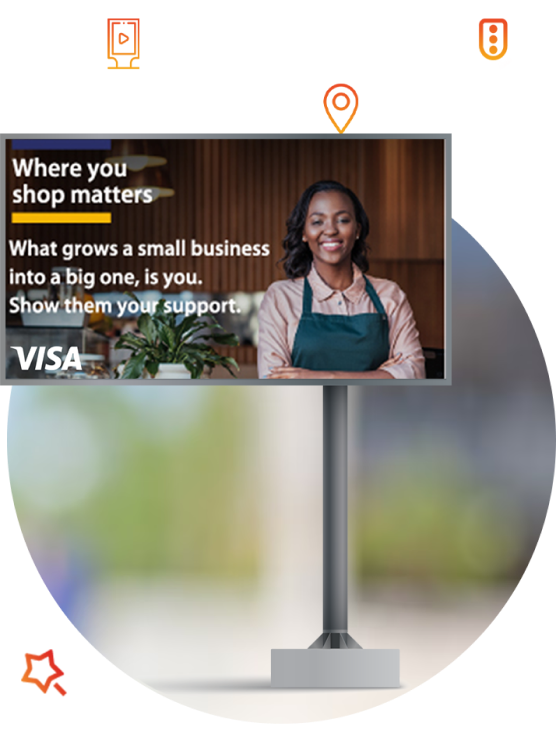 Benefits
Unified View
You can reach people on screens of all shapes and sizes using a single dashboard in a quick and efficient manner. Marketers can activate, pause, and optimize digital out-of-home campaigns in near real time.
Performance
Using programmatic deals, you can handle everything from strategy and activation to reporting and optimization all in one place. DOOH is dynamic therefore allowing better control over targeting, measurement, and attribution.
Omnichannel Targeting
Increase your reach by adding DOOH into your current media buying strategy by targeting audiences out of home using location, first-party data, third-party data and temporal data.
Attribution
By connecting offline and online user journeys, you can manage an omnichannel experience and measure the true impact of your DOOH advertising strategies. Integrate your omnichannel strategy and tie your campaigns to real business outcomes.
Ad Flexibility
Traditional buying strategies typically target one location and message while digital out-of-home advertising enables brands to run different messages depending on the screen's location or the time of day.
Contextual Ads
Similar to a traditional out-of-home advertisement, advertisers can reach consumers based on contextual information from the screen's location while benefiting from programmatic's flexibility and simplicity. For instance, a restaurant can quickly reach office workers during lunch by advertising on a screen in a busy commercial area. The same screen may later that day advertise a movie that will be showing at a nearby cinema.
Like What We Offer?
We can help you get to the next level that you are talking about.